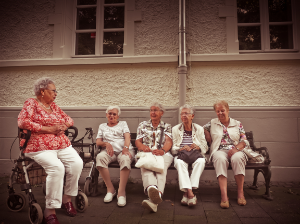 This group meets monthly to explore various topics on aging well. It is intended for those age 55+, but all are welcome. This event is put on through partnership with the Center for Conscious Aging. Sample topics from past events include fitness for chronic pain, exploring mindfulness through art, and keeping the brain sharp with holistic practices. We usually meet on the 4th Wednesday of every month, but are meeting on November 20 this month. Transportation is available.
This month's topic: Ageism in Colorado
Ageism - the minimization of people on the basis of their age - is pervasive. It can be directed at younger people or older people. Either way, it reduces opportunities and diminishes us all.
Community conversations are effective in reducing ageism. When the community comes together to share their knowledge and perspectives, biases lessen and people's attitudes about age shift. Collectively, we can all participate in changing our biases and reducing ageism.
Presenters: This event is facilitated and hosted by The Center for Conscious Aging and co-sponsored by Changing the Narrative, a partnership of NextFifty Initiative and Rose Community Foundation.