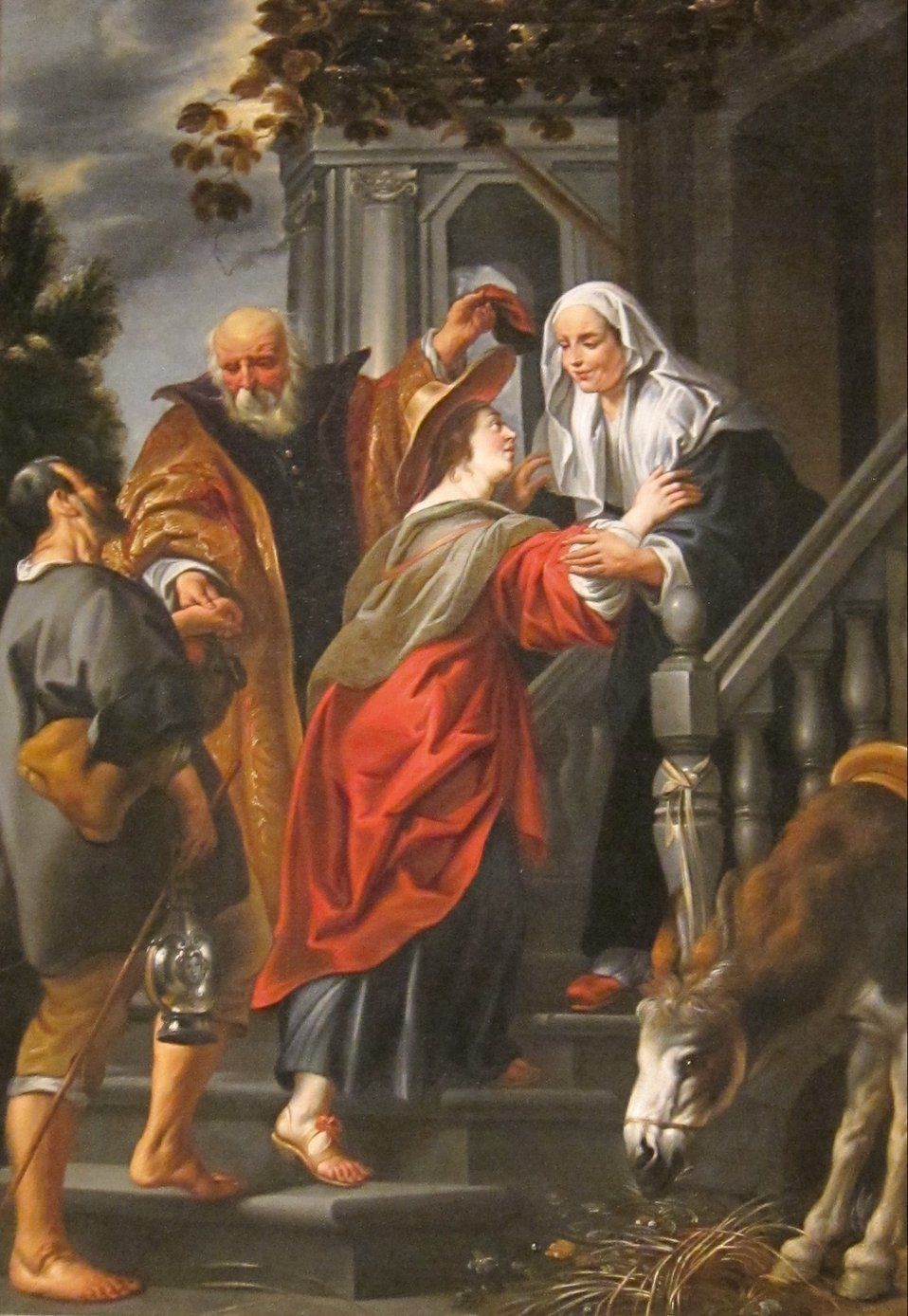 Daily Devotional 

The picture on the cover of the Upper Room for November and December shows Mary before the birth of Jesus meeting her relative Elizabeth who is also pregnant.  Elizabeth says, "....as soon as I heard the sound of your greeting, the child in my womb leaped for joy...."  Luke 1:44 
Thus Luke witnesses how John the Baptist, even as an unborn child, recognized the one coming as the chosen One of God. Now, birth is usually a joyful occasion, even though it also first often involves great difficulty and pain for the mother. 
It occurred to me that very often in human experience great joy is preceded by equally great pain. That was Israel's experience over and over again: Captivity and slavery before freedom and escape. Exile in a strange land before being permitted to return home many years later. This was what Isaiah was prophesizing in 35:10:         
And the ransomed of the Lord shall return, 
and come to Zion with singing; 
everlasting joy shall be upon their heads;  
they shall obtain joy and gladness, 
and sorrow and sighing shall flee away. 
In our day these could be words of promise and hope for the millions of displaced people around the world. Part of our Advent prayers might well include supplication for the needs and futures of the displaced, the disenfranchised and the suffering. 
And we may pray as well for those among us who also experience the burden of distress and pain. In fact, I have written this meditation partly because I have experienced such distress and pain myself. For 15 years I have felt post herpetic neuralgia because of shingles in the left side of my back in the spring of 2005. It happened just before the vaccination for shingles was introduced.  Now my PHN has merged with the pain of arthritis.  I hope some day to be able to rejoice at the cure of these injured and inflamed bodily parts. 
Nevertheless, I have many reasons for joy in spite of pain. I enjoy telling people how urgent it is to get a shingles shot before the age of 50, because one in every three people will have shingles otherwise.  I also have the continual joys of having such a long life, of having such a happy marriage with my loving wife of almost 60 years, of having such accomplished and loving children and a granddaughter, also thoughtful and loving. And, finally among many other reasons for joy I must mention my ministry with so many interesting, needy and loving people. Currently I enjoy the rich fellowship and spiritual wisdom of the staff and members of University Park UMC. Beneath it all is the joy of knowing a loving God, a blessed interpreter in Christ, and the companionship of the ever-present Holy Spirit. We remember that Jesus experienced great suffering and pain before joining his heavenly Father and having the joy of resurrection and redemption of many souls. 
I am sure that many other people have experienced similar pains as well as such joys and hope. So, at Advent and always we are blessed who have "everlasting joy" and look forward to the time when "sorrow and sighing shall flee away."